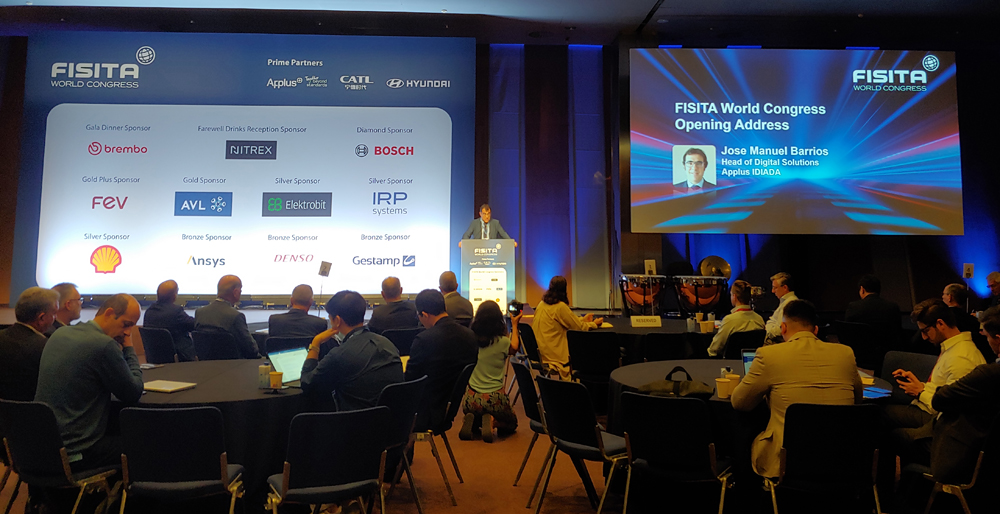 Autoinsinöörien maailmanjärjestön FISITAn maailmankongressi alkoi Espanjan Barcelonassa tänään 12.9.2023. FISITA tiedotti asiasta seuraavaa:
The FISITA Technology of Mobility Conference and Exhibition 2023
12 – 14 September; Barcelona International Convention Centre (CCIB), Spain
LOCATION: Plaça de Willy Brandt, 11-14, Barcelona
Organised by FISITA
FISITA is the international membership organisation and voice of the automotive and mobility systems engineering community.
The FISITA Technology of Mobility Conference and Exhibition (FISITA TMCE) incorporating the FISITA World Congress, EuroBrake, the inaugural FISITA Intelligent Safety Conference Europe and FISITA World Mobility Summit; will be the hub for the international automotive and mobility systems engineering community. During three-days FISITA will host 2,000 delegates from countries across the world.
FISITA TMCE will explore the technology, methodology and strategy of mobility, by bringing together experts and thought leaders from the many different disciplines of engineering innovation required for the technology of tomorrow's mobility.
Throughout the three-days FISITA will also host the inaugural FISITA Working Group Forums, an exclusive opportunity to learn from the international expert working group community of FISITA.

During these sessions FISITA will launch three new and exclusive thought leadership papers;
*Carbon Neutral Mobility Position Paper 2023
*Next Generation Mobility Position Paper 2023
*Intelligent Safety White Paper 2023
These papers have been developed via the FISITA Member Working Group initiative, enabling leading industry experts to engage with their peers and produce new perspectives on subjects identified as priorities by FISITA members over the last 18 months.
____________________________________________
The FISITA TMCE opening ceremony took place on Tuesday 12 September; 10:45 CET and will feature industry experts from across the sector:
Nadine Leclair, President; FISITA
José Manuel Barrios, President; STA and Head of Digital Transformation and Digital Solutions of Applus+ IDIADA
Joan Amigó, Chief Executive Officer; Applus+ Group
Chang Hwan Kim, Senior Vice President; Hyundai Motor Group
Laia Bonet Rull, First Deputy Mayor, Area of ​​Urban Planning, Ecological Transition, Urban Services and Housing; Barcelona City Council
Albert Castellanos, Secretary of Business & Competitiveness for the Generalitat of Catalonia
Message from Chris Mason, Chief Executive; FISITA
'I am proud that FISITA TMCE is launching as a new biennial concept, creating the opportunity of our international community to return to in-person conferencing as part of FISITA's new-era plan.
FISITA TMCE will deliver high quality knowledge share and thought leadership to over two thousand delegates, with hundreds of technical sessions, high profile keynote speakers, panels and discussions throughout the week, with professional networking and business engagement opportunity within an exhibition featuring the leading mobility systems brands. It's going to be a great week!'
Find out more about all our event programmes:
About FISITA
FISITA is the international membership organisation and voice of the automotive and mobility systems engineering community. Founded in 1950; FISITA is the international network for automotive engineers, with a reach to over 200,000 engineers in 35 countries.
At FISITA, we bring the technology of mobility community together to progress priority challenges and opportunities via working groups, events and platforms for high level networking within expert peer groups.
Enquiries: sales@­fisita.com
ABOUT STA
The Society of Automotive Technicians (STA) has been a member society and co-founder of FISITA since 1948 and has more than 800 members, both natural and legal persons. STA's mission is to promote the progress of technological advances in the mobility sector and in the Spanish automobile industry by providing a neutral platform to share experiences and opinions among equals.
To achieve these goals, the STA functions as a local and global platform for knowledge exchange between industry and academia, with special emphasis on being a leading advocate for the education of young engineers and technicians. We are also an important organizer of local and global events, including technical sessions (such as the Automobile), international conferences (such as the Technology of Mobility Conference and Exhibition) and the Formula Student Spain competition, among many others.